We invite you to join us in worship, in prayer, and in friendship.
Join us at our daily Mass and at our weekend Liturgy. Worship the Lord with us and be enriched by thoughtful homilies, beautiful music, and a welcoming community of faith.
We look forward to meeting you!
You can support your parish electronically
What's New at Saint John Chrysostom
Pentecost: The Holy Spirit came down upon the disciples of Jesus after his ascension from earth to heaven on Ascension Day. Pentecost always falls on the seventh Sunday after Easter. Pentecost means "fiftieth day", as it is celebrated on Pentecost Sunday, the 50th day of the Easter season (including Easter Sunday, the first day, in the counting). In 2018, this will be on May 20.

when the doors were locked, where the disciples were, for fear of the Jews, Jesus came and stood in their midst and said to them, "Peace be with you." John 20:19-21
April 7, 2018
There will be NO 7pm Mass on Saturday, April 7th due to the Spring Fundraiser.
April 8, 2018
Breakfast with Easter bunny, following the 9:30am Mass
Sisters of Saint Joseph Host Summer Retreats in Hingham: The Sisters of St. Joseph, in collaboration with the monks at Glastonbury Abbey in Hingham invite you to the following Directed Retreats being held at the Abbey in Hingham, MA. A Directed Retreat includes an individual daily meeting with a director and time for personal prayer, exercise, rest, and liturgy.
June 28 - July 6, 2018 or June 28 - July 2, 2018
July 9 - 17, 2018 or July 13 - 17, 2018
July 18 - 26, 2018 or July 18 - 22, 2018
July 28 - August 1, 2018
August 7 - 15, 2018 or August 10 - 15, 2018
August 18 - 25, 2018 or August 18 - 22, 2018

To receive an application, more details or to ask any question, please email spiritual.ministries@CSJBoston.org, or call 781-227-4730.
Children's Choir: The Music for this year's First Communion is available on the Saint John's Children's Choir web site.
Spring Celebration & Comedy Night: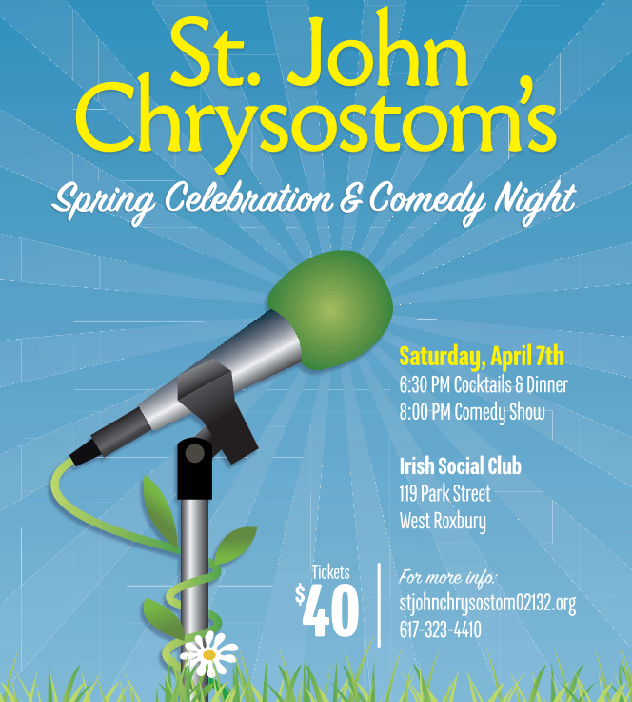 Get your tickets to the Spring Fundraiser on sale after Mass or at the parish office weekdays. The event will be on Saturday April 7, 6:30 pm-10:30 pm Irish Social Club, 119 Park St. West Roxbury $40 per person. There will be dinner, raffles and great auction items. The comedians are Harrison Stebbins, Jessica Casciano and Tony V.

Invite your friends of all faiths. You can purchase a Table of 8. Get your tickets now for this entertaining show.
Eucharistic Ministers & Lectors: The fall schedule for Eucharistic Ministers & Lectors is posted on-line here
Disciples in Mission
Dear Parishioners:
All the Parishes in the Archdiocese of Boston are called to participate in a process which is called Disciples in Mission, the Pastoral Plan that was set in motion in 2012 by His Eminence, Cardinal O?Malley. It is an attempt to use the resources of Parishes in the most effective manner possible to advance the Church?s mission of evangelization. To achieve that goal, the 288 Parishes of the Archdiocese are being organized into 135 collaboratives. Most collaboratives involve several parishes. You will recall that in the original plan for the Disciples in Mission program, going back to 2012, Saint Theresa Parish was linked with Saint John Chrysostom Parish.
To this date, 53 collaboratives have been established. This month, 10 additional collaboratives are being added to the list throughout the Archdiocese.
This has been a gradual process. The implementation of Disciples in Mission is happening in a series of phases. Saint Theresa's Parish and Saint John Chrysostom Parish have been assigned by the Archdiocese to Phase Seven, which will go into effect on June 1, 2019- - - two years from now.
There has been a great deal of realistic and honest assessment of the realities of parish life over the past five years as the phases have gone into effect throughout the Archdiocese. This process of honest and realistic assessment will continue. Over the next two years, I will be keeping you advised about any developments which occur, and, when it is appropriate and will be helpful, I will be happy to meet with you to get your ideas as we move forward.
Father John Carroll
Peace Garden in Memory of Father Charlie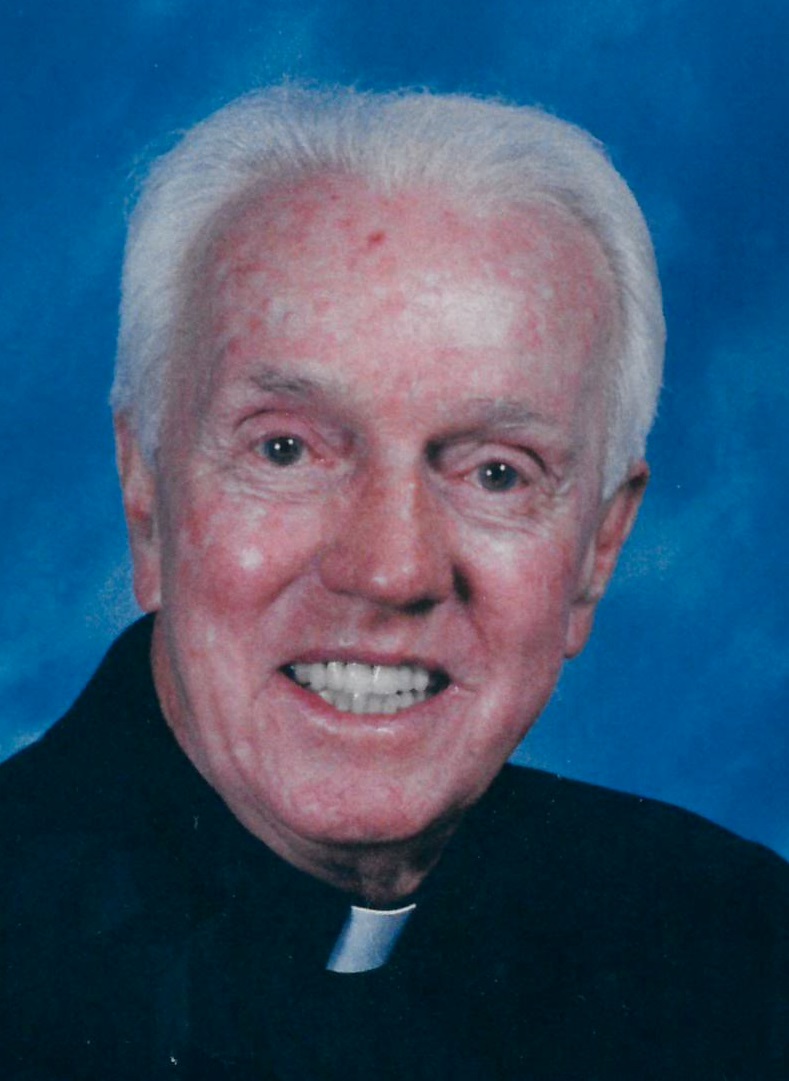 On June 4, 2017, we dedicated the peace garden in Father Charlie's honor. The garden is located in the back yard if the church. It will always be open to anyone who wants to sit and reflect, have lunch or even take their coffee outside. It is our parish garden for some quiet time.
Faith Formation (Religious Education Program) 2017-2018: Our new year of Faith Formation for Grades 1-10 begun on September 17th with an opening Liturgy. Fr. John commissioned the catechists at the 9:30 Mass, followed by refreshments in the Hall. This is an opportunity to meet our teachers and to ease back into the fall activities.

On September 24th, classes begin. Students and parents should attend the 9:30 Mass together. At 10:30, Fr John will address the parents and all students will be escorted by the teachers to their classrooms.

We are looking forward to supporting the parents as they teach their children through their own examples of love and care.

First Communion Day! Saturday, May 5, 2017

more Religions Ed...
Saint John's Parish Library If you are looking for inspirational reading come visit our parish library. We have several excellent books for you to read. The Library, a gift from our Tuesday Night Prayer Group, is dedicated to the memory of Father Dunn. It is located in the upper room, and contains books on interesting variety of subjects including Church History, Theology, Bible and related books, Lives of the Saints, Maryology, Spirituality, Prayer Parish Ministries, and some Catholic fiction. Stay tuned for some exciting improvements to our library.

Take a look and take out a book.
Project Rachel is a confidential Catholic outreach ministry offering hope and healing to women and men hurting from past abortions. Archdiocese of Boston. For further information call 508-651-3100 or help@projectrachelboston.com or visit the website at projectrachelboston.com

Project Rachel is named after the Old Testament figure Rachel, who weeps inconsolably for her children "who are no more" until God came to her, offering hope for her future. (Jeremiah 31:15-17)
Parish Health Ministry: Our next Blood Pressure Screening is scheduled for Saturday, March 10th, 2018, before and after the 4pm Mass and Sunday, March 11th, 2018, after the 7:30 am Mass in Room 5-6 of the Parish Center.

The next meeting of the Saint John Parish Health Ministry will be held on Wednesday, March 7th, 2018, at 7pm in the Parish Library. New Members are welcome. It is not necessary that you be a nurse or health care professional to be part of the Health Care Ministry.

Attend to your heart February is the month of the heart. The American Heart Association asks us to do more than give flowers, chocolates, or other gifts. We should also honor our heart health and those we love by reducing the risk of cardiovascular disease. Sadly, on Valentine's Day, more than 2,500 people will suffer a heart attack, and this year, more than 625,000 people will die from diseases of the heart. Heart disease is also the No. 1 cause of death in women age 20 and over; 1 in 3 women will die of heart disease, compared to 1 in 30 women who will die of breast cancer. Also, a women's symptoms may be different than a man's. The American Heart Association lists seven steps to reduce the risk of heart disease:
Get active - exercise for as little as 30 minutes a day
Control cholesterol and saturated fat - know your numbers
Eat a sensible diet - more fruits, vegetables and whole grain foods
Manage blood pressure - know your numbers
Lose weight - burn more calories than you consume
Reduce blood sugar - learn your blood sugar levels, follow your doctor's plan
Stop smoking - get help to stop


To learn more go to heart.org or call 1-800-AHA-USA1
Saint John's Prayer Group: Concludes their meetings for the winter with their final meeting of the season on Tuesday, December 26th,2017. The group resumes prayer gatherings in the spring.
Saint Vincent de Paul Society: There are many in our community in need. Saint Vincent de Paul is an organization to help. Would you join us so that we can better identify those in need and provide them with assistance? If you can, please call or leave your name in the parish office.
Pray for our Sick: Each day we pray for those sick or infirmed in the Parish. If you would like us to pray specifically for someone in need, please write the name of the person in the Parish Book of Intercession in the vestibule of the church or call Saint John's Office at 617-323-4410 ext. 10.
Volunteering at Saint John's Saint John?s is blessed with all those who volunteer their time to enrich our parish community. It reflects the generosity, the social commitment and the basic Christianity of our parish family.

At present the Liturgical Committee is calling parishioners to serve in the following ministries, Eucharistic Ministers are called not only to minister the Body and Blood of Christ, but to have and maintain a strong faith, a sense of awe, and an inclusiveness of others as the foundation for their ministry. The ministers accomplish this by strengthening their faith from within and sharing it with the faithful at communion time.

There are additional duties available at Saint John?s that you can participate in that will allow you to assist the parish and help you serve your faith. We need people willing to serve as Lectors or Adult Altar Servers.

If you do not wish to be out in front, you may wish to care for the altar or arrange for the flowers. Whatever your expertise, your assistance would be greatly accepted. No job or amount of time is too little.

If this speaks to you and you would like to be involved or just to find out more, please call or email Mary Campion.
Communion Calls The parish staff will bring Holy Communion to home bound on a monthly basis. Please call the Parish Office 617-323-4410, if you know of someone who is home bound and who would like to be included.
Celiac Disease For those with celiac disease, we do have low-gluten hosts. When you come up for communion the priest will have the low gluten hosts in a separate container (pix). Take the host out of the container yourself since the priest has touched the hosts that are not gluten free.
Military If you know of someone on active duty or about to be deployed and would like their name displayed in the vestibule of the church, and included in the parish bulletin, please contact the parish secretary with the name and service. We will remember them in our prayers.
Our Parish Mission Statement
Saint John Chrysostom Parish is a welcoming, inclusive community of believers in Jesus Christ. We invite all to pray with us. The gifts we bring and the joys we share are influenced by our personal history, religious experiences and orientation, all of who we are. We follow the Gospel message of love through vibrant liturgies which inspire us to act as we come with open hands serving the needs of all peoples.
Welcome to new parishioners!
If you are new in the parish, please stop by and say hello to the celebrant following mass and introduce yourself. Also, visit our office in the
parish center
or call the parish office (617) 323-4410 EXT. 10 to register with us so we have your name and address. Anyone in our parish who will be moving is also asked to advise us of their new address. Thank you.
---
Bookmark This Page !
Back to Top
Thank you for visiting our site.
264459 Visitors since 11 March 2012.
Comments or suggestions about the website are most welcome.
Email the webmaster
Copyright © 2002-2017 Saint John Chrysostom Parish, West Roxbury, Massachusetts